CheapBuild
Building this actually started by accident. It all began one summer afternoon in 2014 when I was out on giveaway weekend with my family driving around the neighbourhood looking for some hidden treasures. As we drove past a house with a printer on the curb I saw a half open box beside it and told my mom to stop the van. When I got out and looked, I noticed it was a full ATX motherboard just sitting there in the original box! I didn't care about specifications or anything; it was a free motherboard so I took it.
That motherboard then sat in a box for a few months because I had no other parts to add on or even test it with. Eventually when we were out shopping one day decided to go check out the old Computer Boulevard store and noticed they were having a closing out sale. The store was pretty bare already and everything was marked down for extremely cheap and what I saw in one corner was perfect, a white case with a CD-ROM, DVD, floppy drive and PSU and they were only asking $15 for it so I picked it up immediately.
After getting everything mounted and hooked up in the case I managed to convince my dad to let me buy a CPU off ebay for the system so I could test the motherboard. I ended up finding a nice $31 CPU for sale and after borrowing some RAM from my dad's desktop got the system to POST! After that I went back onto ebay found myself some good deals on a cheap video card and some RAM and after ordering them in got the system complete.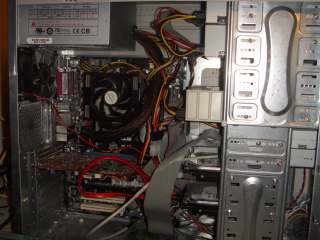 This desktop has been my daily driver for about a year now and it hasn't quit yet. I hope this thing will still last a few more years to come so I can set up some awesome LAN parties once I get my newest desktop built.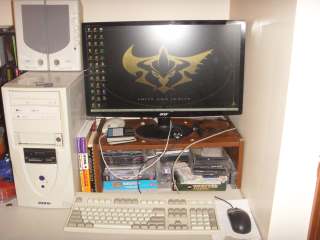 Specifications

Motherboard: ASUS M2N-E SLI
CPU: AMD Athlon 64 x2 +6000 @ 3.1GHz
RAM: 4x 1GB DDR2 533MHz
Graphics: ATI Radeon HD 3650 w/ 512MB VRAM
Master HDD: 80GB Seagate ST380215A
Slave HDD: 1TB Seagate ST1000DM003-1ER162
Removable HDD: Removable ATA HDD bay