Volume Locker
Volume Locker allows you to quickly and easily set and "lock" the state of the input devices on your system, preventing pesky programs from changing the volume or muting/unmuting your devices.


Download (26,393 bytes)


Source (14,395 bytes)


Github Repository
Usage
After clicking the '+' tab to show a list of available input devices, you will be brought to a screen mirroring the device's current volume/mute state. Once you enable the mute or volume locks for a device, Volume Locker takes over the mixer for that input and will keep it set at the configured volume/mute state, blocking other programs from changing it until the locks are released.
Screenshots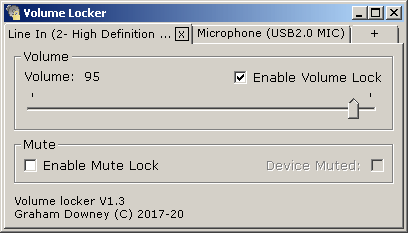 System Requirements
Windows Vista or later
Sound card or recording interface with mic/line in
Last Update: v1.3 / July 28, 2020