Welcome to Graham's World Wide Web Server
Welcome to my little place on the information highway, please leave your shoes at the door and enjoy your stay.

Check out what's new!
I have some cool software and games I've written that you can check check out here and some useful programming libraries you can check out here if you're interested in game development.
If you've already checked that out you may also be interested in my retro screen savers archive or my collection of personal computers.
If you're done with all that stuff I also have a cool links section you can browse through to see some other websites I thought were really cool.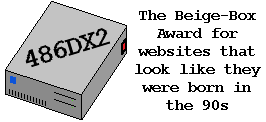 Feel free to shoot me an email anytime, I love to hear from my visitors!


grahamdowney1@gmail.com

You are the

person to visit this page!